What's new in MagicSpam? (Q4 2022 Edition)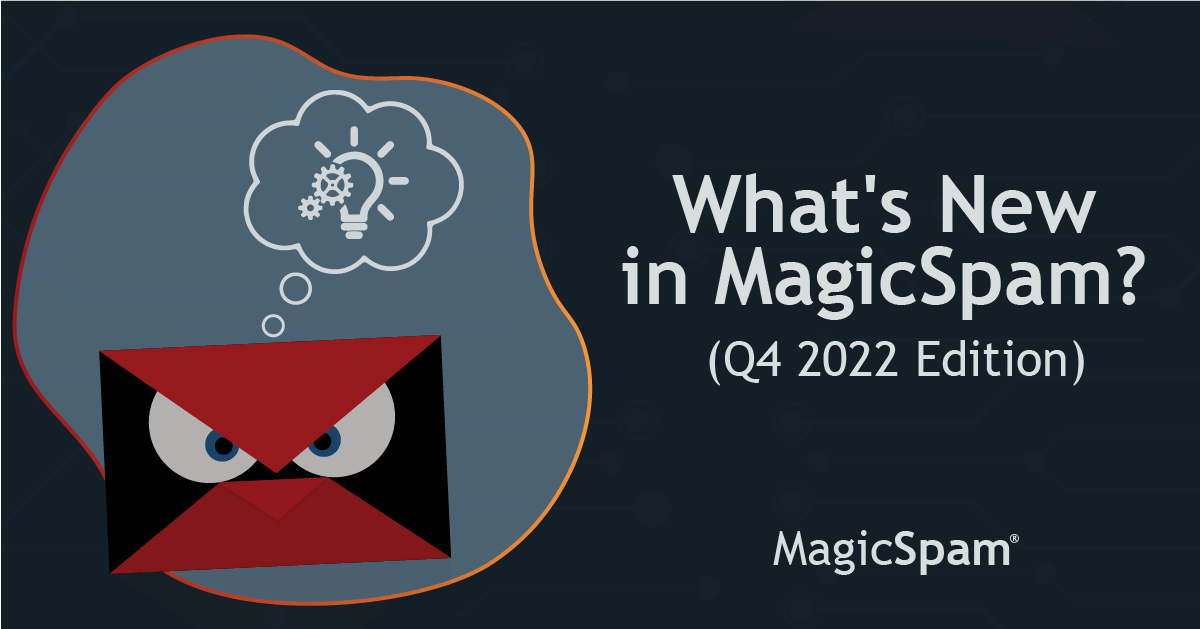 More ways to protect yourself against inbound spam!
From our talks with you, our email administrator brethren — a common thread emerged around rejecting spam using more types of data at different stages in the email delivery process. This makes absolute sense as access to even more comprehensive spam protection does not only make you a more effective email administrator but also keeps your email users happy and secure.
With that in mind, we designed the release around this concept to unlock more great value for you.
Connection Protection
Block early right at the connection stage. Not only can you control who is allowed to send you email, but now you can also control who is allowed to connect to your email service in the first place. With this brand new connection protection capability comes a brand new interface which can be accessed as shown below.

Block connections from suspicious sources
Get specific with the types of connections allowed to transmit messages to your email server using these three new Connection Policies.

Block connections from sources that violate Best Practices for email transmission — sources with dynamic hostnames or no hostnames whatsoever. Also, block connections from the worst of the worst networks known to be run by operators that actively protect spammers who often times launch some of the most dangerous threat campaigns. Thanks to the SpamRATS Team for the RATS-NULL reputation list which makes it official debut in MagicSpam.
By default, these Connection Policies starts off disabled but are highly recommended — go ahead and enable them after the upgrade. Note that these Connection Policies only apply to email transmission port 25.
Data Protection
Apply constraints on the data allowed to be transmitted by senders to your email server. You now have access to two new blacklists which operate on the content of email as shown below.

Block messages based on the Subject Header
Say that you notice a new spam campaign originating from reputable networks with properly configured email servers that may have been compromised. You can now deal with them using the Subject Header Blacklist.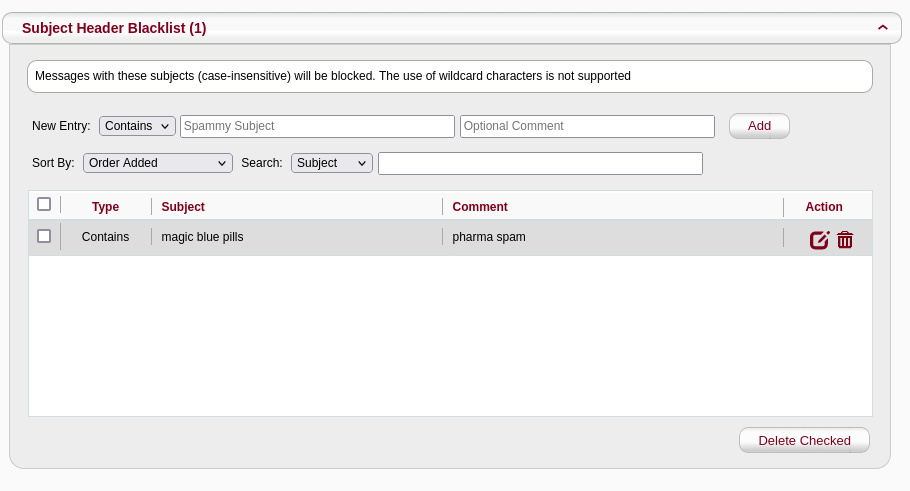 Simply add a pattern from the subject header whether it be a certain word, phrase, or even the entire header, along with one of the four available match types (Contains, Matches, Starts, Ends) to start blocking more of these spam messages from being delivered to your mailboxes.
Stop messages with dangerous attachment extensions
File extensions inform the system about the characteristics of the file content and guides the system on how to interact with it. For example, a text file (.txt) will be opened in a text editor while a image file (.jpg) will be opened in an image viewer.
Certain attachments are more dangerous than others, especially those with script and binary extensions that instructs the system to execute them. Your email users may be tricked into running these malicious attachments that installs malware on their system.
Don't even give messages with dangerous attachment extensions the opportunity to be delivered in the first place using the Attachment Extensions Blacklist.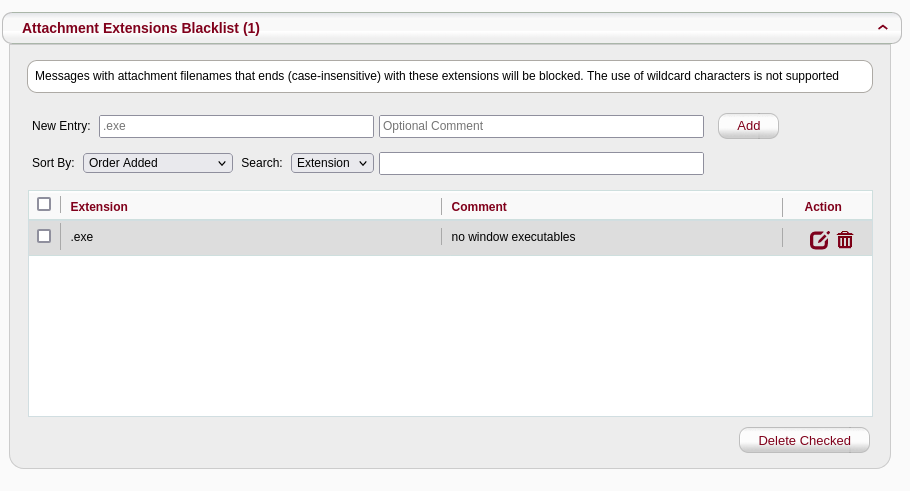 Simply add the attachment extension to block messages with attachments that match that exact extension type.
Anything Else?
Yes sirree, we have continued to improve upon our diagnostics tools and reports.
Email Server Health Scan
The Email Server Health Scan checks the mail system for red flags that could prevent the proper operation of the email server, along with anything that could increase the risk of falling victim to email threats. You can perform this scan on-demand as shown below.


A nifty modal will pop up and inform you about three different possible red flags. We have plans to continue adding new red flags to this scan over the next several releases.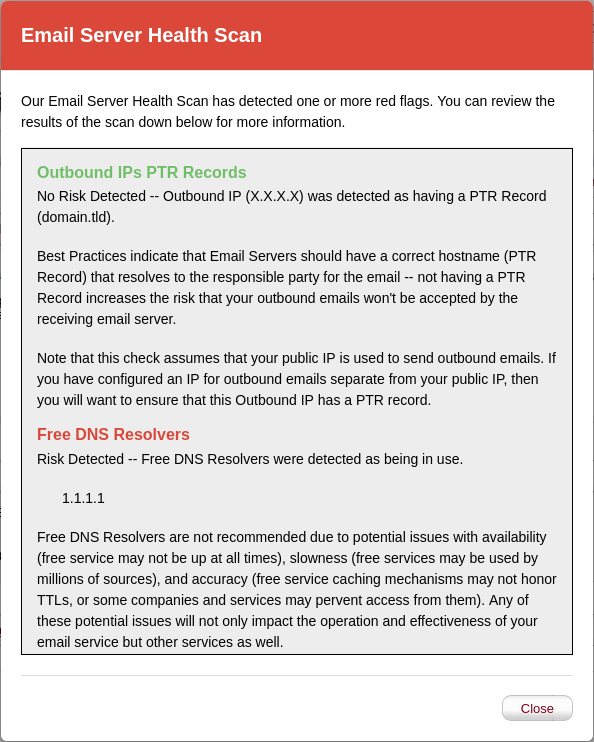 Hopefully, the results of this scan will draw your attention to potential risks with your email server and help to keep it safe and operational for a long time.
Custom Content Filtering Rules (Zimbra)
Our Custom Content Filtering Rules which provides an additional layer of protection against spam is now available in MagicSpam PLUS for Zimbra. This feature has been a long time staple in the PRO versions of MagicSpam, so we are happy to finally make this feature available on the PLUS version for our Zimbra customers.
Q3 Features leave BETA stage
Along with the new features from the latest release, the features from the previous release have left the BETA stage and is now available in this release. The previous release focused on enhancing our logging capabilities with new data points and allowing users to utilize them to be more effective email administrators. Read the previous release article for more detailed information.
Feature Availability
We are excited for everyone to try these new features which are available on our PLUS and PRO versions of MagicSpam, specifically:
MagicSpam PRO for Plesk 2.1-19.1
MagicSpam PRO for cPanel 2.1-18.1
MagicSpam PRO for DirectAdmin 2.1-16.1
MagicSpam PLUS for Zimbra 2.1-13.1
Note that the Connection Protection and Data Protection features will not be available on Plesk using with Qmail MTA. We recommend to switch to using the Postfix MTA in order to gain access to these new features.
Into the New Year and Beyond!
With 2023 just around the corner, we look forward to continue helping you achieve your email security goals through the new year and beyond. If there you have any wishes for what you would like to see in MagicSpam, let us know (feedback@magicspam.com) and we will make sure it gets to Santa.
Thank you for supporting MagicSpam and looking forward to this wonderful journey with all of you!