How a Chilean Hosting Company Reduced Support Calls and Improved Email Services by Partnering with MagicSpam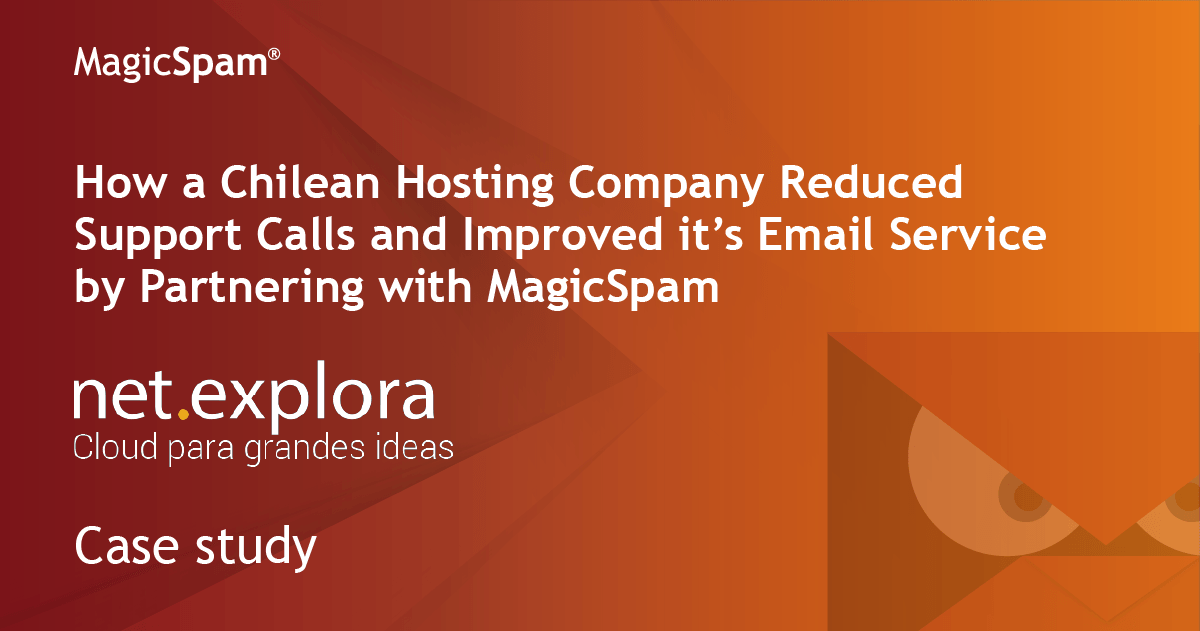 When you think of hosting, Chile may not be the first country that springs to mind. However, there is a company there that is quietly becoming a powerhouse in the region. Tecnoera is an Internet Service Provider and Hosting Company that offers Web Hosting, along with Data Center and Cloud Solutions. With offices in Chile and Peru, Tecnoera services the Government, Mining, Enterprise, SMB, and Telecommunication sectors all across Latin America with over 20 years of experience. Their hosting division under the brand NetExplora has two data centers in Santiago and Viña del Mar.
Like with many other companies — growth comes with new challenges. Tecnoera found themselves facing issues related to email such as spam protection for their customers. It's no surprise that they found that much of their support costs were also related to email problems their hosting customers faced.
Tecnoera embarked on a journey to address this problem but in-depth reviews of available solutions proved that many of the traditional methods and vendors either involved considerable expense or were not designed specifically to suit the needs of the hosting industry and their customers. They needed a solution that fit their business model.
Part of that business model was providing services using a prominent hosting panel in the industry called cPanel and that is when they found an email security product geared specifically for hosters which they decided to try out — our product "MagicSpam".
Tecnoera needed a solution that was easy to use, easy to implement, cost effective, and allowed their customers to take control of their own email platforms. Early tests showed great promise from decreasing attacks, reducing bandwidth, lowering overhead, and most importantly minimizing support incidents related to email. Not to mention that the protection was less reliant on pure filtering techniques which doesn't always work as well in non-traditional markets, languages, and demographics. Also, the ability to empower their customers and put the control back in their hands held special appeal.
This discovery was timely as cybercrime in the region had grown significantly by 74% over the last two years according to the University of Chile. Business Email Compromise (BEC), Ransomware and Phishing are some of the biggest threats facing their customers. Both spammers and hackers have discovered this type of cybercrime to be very profitable which have led to even more sophiscated attacks than before.
As such, Tecnoera chose to enter into the MagicSpam Reseller program to more easily implement protection against the greatest threats to their customers, along with the hope that this could not only lower their support call volumes and costs but also reduce customer churn.
MagicSpam PRO for cPanel is bundled with NetExplora email products as a value add to all their customers, and it has quickly proven to be a successful strategy.
The reduction of support calls can be attributed not only to the reduction of attacks, but in the way the protection have been offered to their customers. While many products may promise spam protection, no solution is 100% accurate. There will always be at least some level of customer involvement in making choices for their business.
If you are going to offer customer facing tools, then it has to be easy for them to understand and use. Otherwise, you end up with more phone calls again. The simplicity of the MagicSpam interfaces with clear and concise logs, statistics, and other features inspires confidence in customers — winning customer trust is an essential part of creating growth in a hosting company.
What really surprised Tecnoera were the unexpected intangible benefits that the adoption of MagicSpam brought to the table. The before and after quickly brought to light that the adoption would be about more than only just the known pain points.
In such a competitive hosting industry, it is often the little things that earns the trust of customers. While Tecnoera originally adopted MagicSpam to solve their own immediate business pains, they quickly identified many other benefits internally — but most importantly found that their offerings solved their customers business pains.
It is true; the lack of business email protection and security are now recognized as one of the biggest threats facing hosting customers but providing a solution that fits into the way they operate is even more important.
Next Steps:
If you are interested in how MagicSpam could benefit your operation, get in touch with us via our contact form or send an email to our sales team (sales@magicspam.com) to discuss your needs.
About Tecnoera:
Tecnoera is an Internet Service Provider (ISP) and Hosting Company that provides telecommunications solutions, data centers, unified communications for medium and large-sized companies and institutions. Tecnoera has offices in Santiago and Viña del Mar in Chile, and services the Latin American market.
For more information about Tecnoera visit https://www.tecnoera.com or follow them @TECNOERA on twitter. Learn more about NETexplora by visiting https://www.netexplora.com or following @NETexplora on Twitter.