What's new in MagicSpam? (Q3 2022 Edition)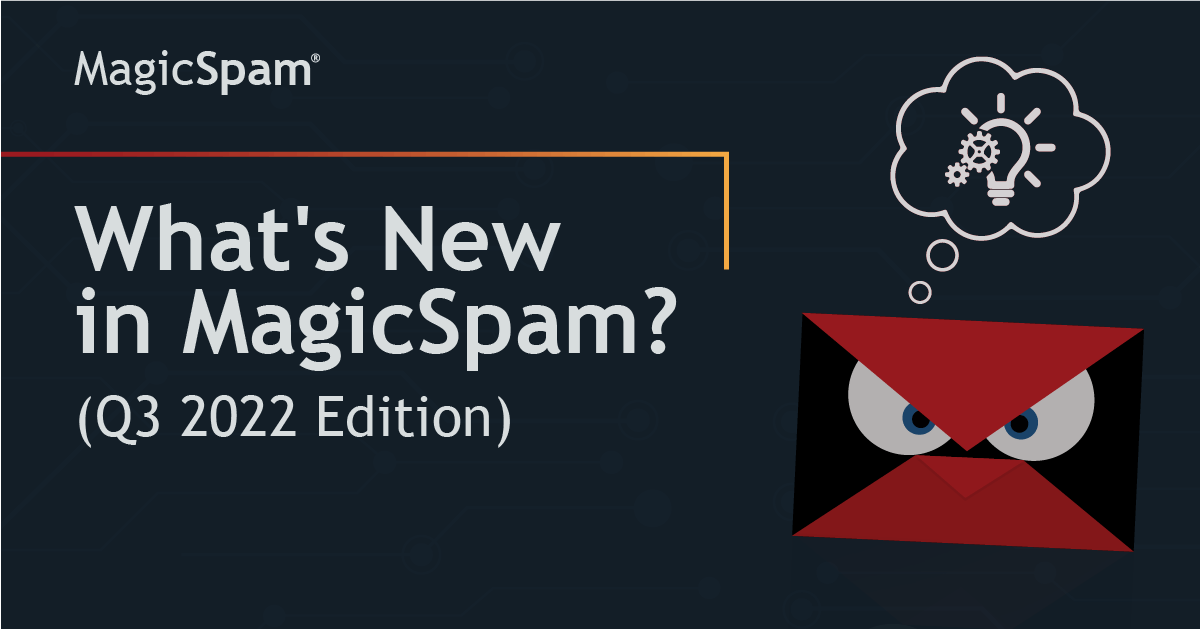 More power direct from the MagicSpam Panel, that's what! What we have found after talking to you, our customers, was that the vast majority loves how MagicSpam helps them take back control of email. One email administration feature that kept on coming up conversation after conversation was our Log Search functionality.
We heard a whole bunch of reasons for the love ranging from 'it helps me to quickly understand my email traffic flow' to 'I can easily find out more about individual emails', but simply put — it makes you a more effective email administrator. This makes absolute sense — when we live in a world where time is at a premium, any savings in efficiency really pays dividends.
With that in mind, we made the main focus of the release to further improve on this aspect and unlock more great value for you.
Introducing MagicSpam Session and Transaction UUIDs
A Universally Unique Identifier (UUID) is just a fancy way of saying that it's a one-of-a-kind label, the only one in the World. Under the hood, a UUID is a 128 bit number composed of 16 octets which can be represented in text as 32 base-16 characters. This textual representation is what you will encounter but combined with 4 dash characters for a total of 36 characters.
312ee04d-6b2f-4847-9af2-1fd1e1969ffb
Every email going in and out of your server will now be associated with two UUIDs — one UUID assigned on connection for the SMTP session and one UUID assigned for each transaction within the SMTP session. You will notice two new custom MagicSpam email headers, X-MagicSpam-SUUID and X-MagicSpam-TUUID.

So what's the big deal about UUIDs and how does this relate to the great value you promised. Read on for the answer to your questions.
Easier MagicSpam Log Search
Say that you are trying to find the MagicSpam log information associated with an email that your customer is trying to bring to your attention. Before you would have to gather multiple data points (Date, Time, IP Address, Sender Address, Recipient Address, etc) in order to accurately pinpoint the information. Now just ask them for the Transaction UUID.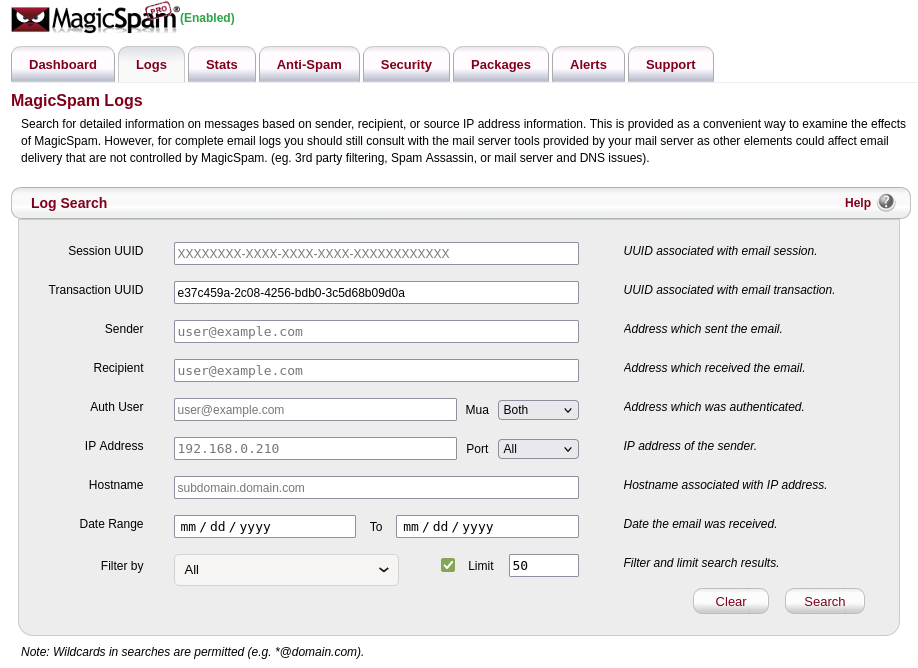 Voila, the MagicSpam log information associated with the email is right there.

View Email Content directly from MagicSpam Log Search Results
You will notice two new columns in the MagicSpam Log Search Results — Session UUID and Transaction UUID. See how the entries in the Transaction UUID column are colored blue and clickable. Well give one of them a click followed by another click on Lookup Email.

The email content associated with the Transaction UUID direct from the MagicSpam Interface. No more swapping back and forth between MagicSpam Log Search Results and Email Clients.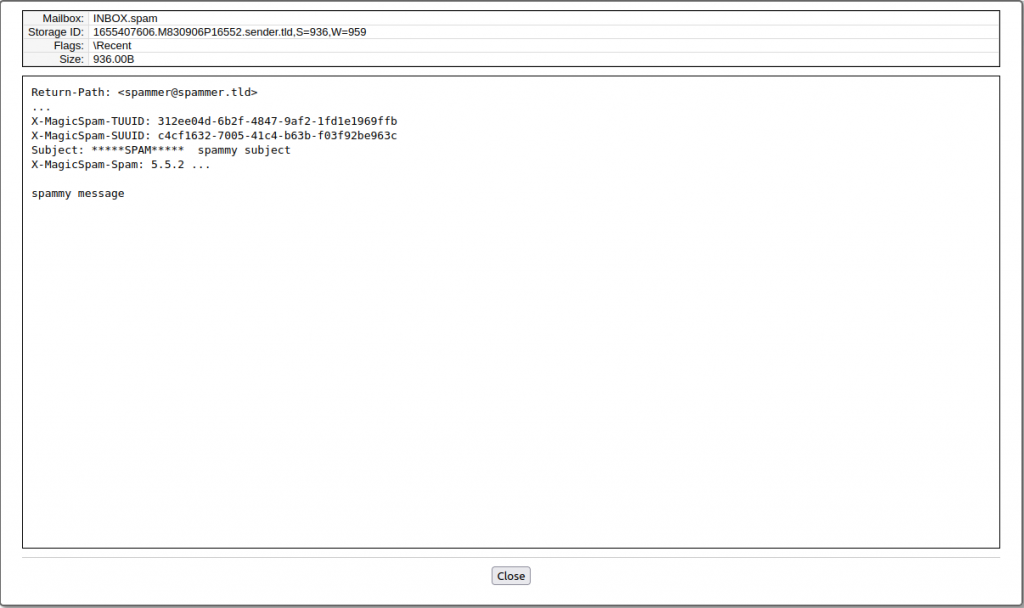 There are several scenarios where the email content won't be available to view.
MagicSpam SPAM entries where the email has been rejected for delivery.
Another program in the email delivery process rejects the email.
It was an outbound email sent to a remote server.
Email has already been deleted from the system.
Note that this is an Administrator-Only feature available exclusively on the MagicSpam Admin Panel.
Can I Have Some More New Features and Updates?
Happy to oblige.
Notifications — Email Authentication Security Report
Ever wonder what MagicSpam sees in terms of authentication activity into your email server? Wonder no more as with the new release, MagicSpam will send you an Email Authentication Security Report every Monday for you to view as you come into work for the week.

This report contains lots of great information to help you get your bearings on email authentication activity providing you with various breakdowns and recommendations. You can also configure the frequency of the report.

Authentication security has never been more critical to email operators. Talk to any of them who have had their email server listed due to outbound spam and listen to the anguish in their voice. Our hope is that this report draws your attention towards the MagicSpam Authentication Security features to help stop your email accounts from getting compromised and being contributors towards the global spam problem.
Outbound Rate Limiter — Exclude Internal Emails from Count
The Outbound Rate Limiter has been a crucial tool in preventing massive amounts of spam from leaving your server but did you know that in some cases these outbound emails don't actually leave your email server.
We call them Internal Outbound Emails where the user still authenticates into their account but the email is sent to another account on the same email server, say to a work colleague. Should emails to your work colleagues count towards your outbound rate limit? Some email operators might say no and we have got your back if you are one of them.
You now have the option to exclude internal emails from being counted towards the outbound rate limiter.
Feature Availability
Excited with what you have seen and can't wait to try it out? Be aware that these new features and updates are only available to the PLUS and PRO versions of MagicSpam. As the version names imply, these new features and updates are meant for the email administrator who cares about more than just spam and want to take their email security to the next level.
If that describes you but you are using the LITE version, then consider upgrading to the PLUS or PRO versions. What you gain for the slight increase in price is more value, more capabilities, and lower risk, which in turn translates into safer and happier email users.
Release Schedule
Over the month of July, the new MagicSpam release will go into BETA starting off with cPanel and Plesk. Once the BETA phase is over and the official release is made available, then the whole release process repeats with DirectAdmin and InterWorx followed by MailEnable and Zimbra. All said and done, we expect the release to be fully completed by the end of July.
Even More to Come!
This is just the start of all the greats things that we have in mind to do with these UUIDs. If your head is bubbling with new ideas like ours, you are just the person that we would love to meet. If you are on the same email security journey as us, reach out and let's collaborate (feedback@magicspam.com).
Thank you for supporting MagicSpam and looking forward to the future.