Hosting Predictions for 2023: 5 Trends Fueling the Industry's Growth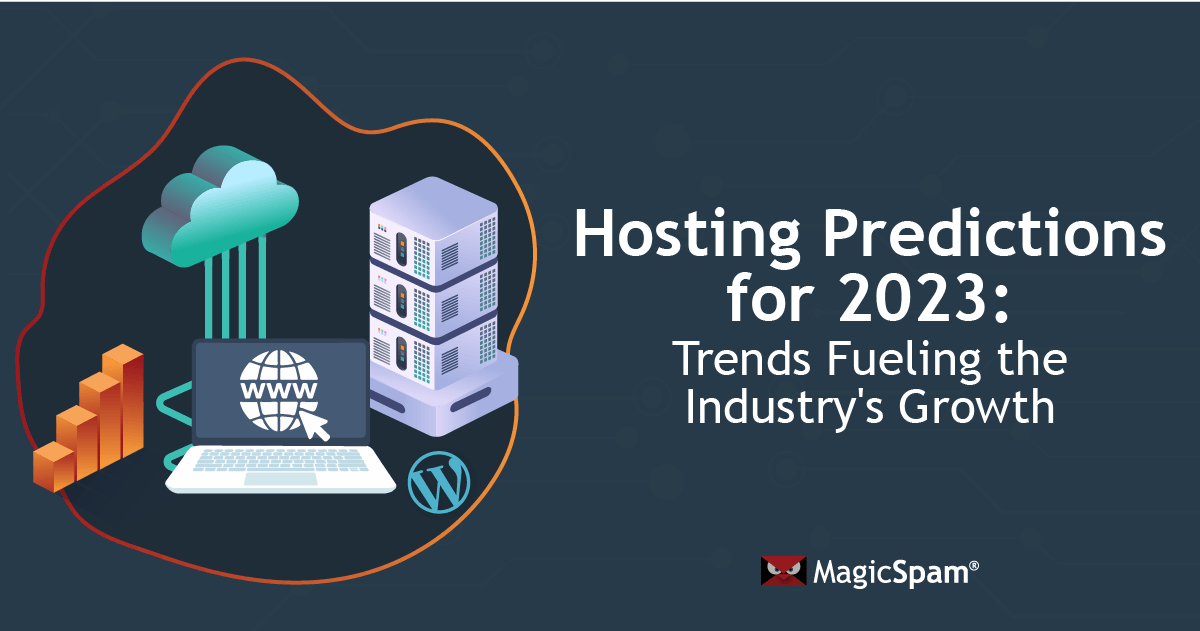 The past couple of years have changed the landscape in many industries and web hosting is no exception. The massive shift to remote work has increased the need for web hosting resources as businesses started prioritizing their online presence.
With physical stores and offices facing restrictions during the pandemic, the Internet has provided an opportunity for businesses to continue operating. Web hosting companies played a central role in enabling them to do so, providing key resources for companies to build websites and e-commerce platforms.
Keeping the pace with the increased demand, the industry continues to grow in the post-pandemic period. Below are the latest predictions for its future and key trends that will keep fueling its growth in 2023.
1. Web Hosting Will Continue to Grow Post Pandemic
According to the Global Industry Analysts 2021 report, the global web hosting services market is expected to reach $152.7 billion by 2026, growing at CAGR of 13.2%. A related report by Fortune Business Insights provides similar projections, highlighting the fact that the pandemic drastically impacted consumer behavior and influenced the industry's growth.
One of the end user services that saw a notable growth during the pandemic is online gaming, while the business sector increased consumption of web hosting and cloud services. Even in the post-pandemic period, these services continued to grow and are likely to follow this trend in years to come.
Below is an overview of the web hosting market size since 2017 with projections up until 2028.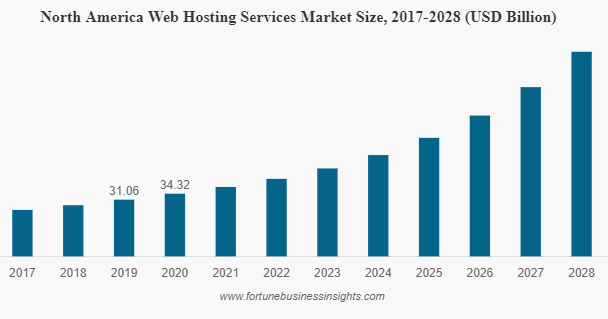 2. The Ongoing Price Wars Will Lower Service Costs
With over 300,000 companies successfully operating in the web hosting market, service price is often a key differentiating factor. Although web hosts primarily compete on service quality, technical capabilities, and customer support — low prices remain a strategic way to attract new customers.
Basic web hosting packages can be purchased for as low as $0.50 a month, offering limited amounts of storage and bandwidth. As such, these packages are convenient for novice bloggers, personal websites, and businesses just testing out the online waters.
The true cost of web hosting services, however, is evident in the advanced web hosting plans. For only a few dollars more, web masters can get gigabytes of storage, unmetered bandwidth, daily backups, and various other perks. Some vendors even throw in free domains, SSL, and various other services. There are also integrations with popular web hosting tools and services enabling seamless website management.
To make their offerings more compelling, web hosts will continue to add more resources to their advanced packages. Even if the prices remain similar to those we have today, the value of the services will drastically increase with the greater diversity of tools and services included in the plans.
3. AI Becomes Integral to Web Hosting
The use of AI in web hosting is not a new practice but is certainly one of the most rapidly evolving ones. AI implementations have been identified in Technavio's Web Hosting Market Research Report as one of the most important market share trends. The report highlights the benefit of using AI in combination with predictive analytics and machine learning to increase website security and improve performance.
One of the examples of the AI adoption in the industry is given by Plesk, which transparently shared details of their use of AI to help hosters "streamline routine tasks, reduce workloads, and consistently improve service quality".
Using the advanced AI tools, web hosts can enable automated alerts about suspicious behavior and in-depth traffic analysis to prevent performance drops. AI can also enable self-repairing systems that help identify potential issues and prevent them from materializing. This has a great potential to advance web hosting experience without requiring complex service management and monitoring tools.
4. Rise in Demand for Managed Web Hosting Services
With the Internet becoming the primary commercial space for most business sectors, companies of different sizes are looking for more online exposure and activity. Small businesses can particularly benefit from setting up online shops and delivering services via the web as this helps them reach extended target audience.
A comprehensive report by Allied Market Research reveals that the surge in the number of SMBs building their online presence is one of the key driving factors of the web hosting industry growth. As such businesses often lack internal IT staff or technical skills to set up and manage a website, they are turning to web hosting vendors for managed solutions.
Recognizing the potential in this sector, web hosting providers are increasingly offering managed hosting services such as email accounts setup and management, backup and security, website development, graphic design, and anything else that may help small companies grow online. A variety of website builders is also available to novice web masters, making it possible to build well-performing websites with minimum technical skills.
5. Security to Remain Essential
In web hosting, cybersecurity plays a vital role in ensuring excellent customer experiences and successful web hosting businesses. Most vendors highlight their data protection tools and systems as a way to ensure security of their client's data and the technologies they use can give them significant competitive advantage.
One of the reasons why cybersecurity increasingly affects the web hosting industry is the fact that small business websites are more frequently hit by cyber-attacks. Even though the largest and the most destructive ones still mainly target big corporations and services that host data of millions of users, SMBs are increasingly becoming a target.
The SiteLock Website Security report from 2022 reveals that WordPress sites are 39 times more likely to be infected by malware than non-CMS sites. In addition to this, it was found that 9% of WordPress sites have at least one vulnerability, which make them a prime target for hackers. The most alarming stat from the report is that 48% of SMBs believe they are too small to get attacked.
With SMBs facing 228 million threats a month, it is clear that every website owner needs to focus on security. By regularly updating CMS scripts, implementing secure protocols, automating backups, and using powerful anti-spam protection, website owners can future-proof their business and protect from threats.
Conclusions
Considering the latest analyst reports and the emerging trends, the outlook for the web hosting industry is certainly positive. With businesses continuing to invest in their online presence, web hosting resources remain vital to helping them reach their goals. The competition will remain strong between hosters, motivating them to continue improving their offering and service quality.