How to Pick the Right Web Hosting Partner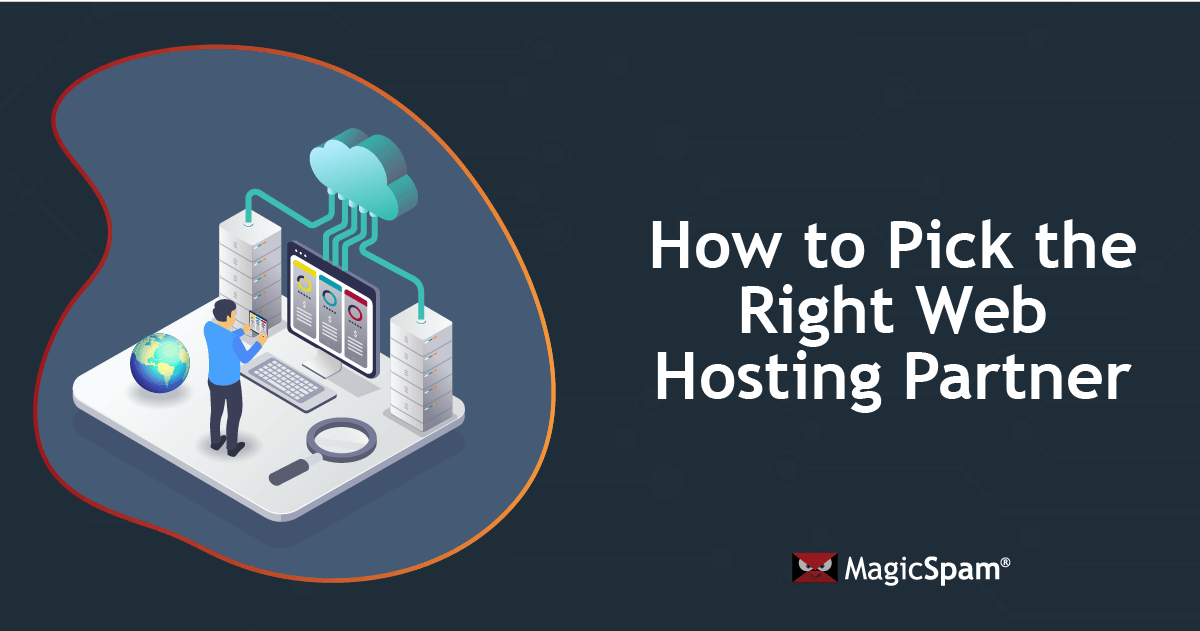 With over 330,000 providers out there, the web hosting industry offers lucrative options for businesses looking to establish and maintain a successful online presence. Yet choosing the right one can turn out to be more challenging than what most business owners think at the start.
Comparing the available web hosting pricing plans is a logical first step toward making the decision. However, the whole experience of working with a web hosting provider can affect your business in numerous ways. Poor performance, unresponsive support, or scaling limitations can impede your progress. Most strikingly, frequent outages and unplanned downtime can cost SMBs up to $50,000 per hour as reported by Tech Radar.
To avoid losing profit, productivity, and customer trust due to hosting outages and restrictive service-level agreements (SLAs), businesses should strategically choose their web hosting partner. Below are some of the key aspects to consider in this process.
1. Assess your resource needs
The web hosting industry is dominated by several big brands, but this doesn't mean they can meet all your needs. There are numerous smaller providers that offer services tailored to a particular niche or geographical region, delivering more personalized support experiences and greater cost-efficiency.
This is why you should first assess your own needs and then look for a provider that can meet them successfully. Are you setting up a personal blog or starting an e-commerce site? How fast do you think your business will grow?
Your business type and growth plans will dictate your needs for storage space, number of email accounts, and bandwidth allocations. Based on this, you should look for hosting plans that provide sufficient computing capacity at the most reasonable price.
2. Consider different hosting types
Another important aspect to consider when choosing a web hosting provider is the type of hosting that would work best for your business goals. The three most common options are listed below and each of them offers different benefits to specific types of businesses.
Dedicated hosting — If you are looking to host business applications or sensitive user data, dedicated hosting is an option that will provide advanced performance and heightened security. With this option you will get your own server with direct access to CPU and RAM resources. Dedicated hosting is more expensive than the two options listed below and is recommended for businesses looking for more control over their performance and security.
Public cloud or shared hosting options — Unlike dedicated hosting, shared hosting services involve multiple tenants on a single physical server. While much more affordable than dedicated hosting, this option comes with a lower performance potential and increased security risks. It is typically a good option for small business websites, personal blogs, and other forms of online presence that do not involve collecting sensitive user data, enabling payments, etc.
Virtual Private Server (VPS) — Similar to shared hosting, VPS involves multiple tenants using the same resource pool. In this case, a website gets its own dedicated virtual server on a shared physical machine and can be impacted by the behavior of other users on the same server. VPS differs from shared hosting in that it provides tenants with more control over their resources as each of them gets a virtual machine that imitates a shared server.
3. Look for high uptime and reliability
To successfully build an online business, you must ensure seamless delivery of your services and applications at all times. Today's online users are looking for excellent experiences with online brands and are likely to leave the websites that load too slowly.
According to a study by Digital.com, 53% of online shoppers expect e-commerce pages to load in 3 seconds or less. In the same study, businesses with slow-loading pages are found to leave a negative impression on 45% of customers.
Your website's speed depends on numerous factors such as CSS structure, file types and size, plugins, and overall information structure. However, if your web hosting server is not fast enough, it is highly unlikely you will be able to improve website speed by fixing code. This is why it is important to ensure your hosting provider can deliver consistent connectivity and advanced traffic speeds to support your workloads.
To further check the host's reliability, you may want to inquire about its historical outages and negotiate flexible SLAs in cases of extended downtime.
4. Plan to scale
When starting a web hosting partnership, it is important to look at a bigger picture. Most providers will offer easy migrations from a different domain or hosting service, but this is not where your collaboration ends. As you grow your business, your needs will change and you might need additional resources. By planning ahead and choosing scalable hosting plans, you can avoid possible bottlenecks when starting a new project or getting unusually high amounts of traffic.
For new businesses, it might be difficult to predict how they will develop in months to come. This is why it is essential to choose a provider which offers scalable hosting plans and enables you to easily upgrade whenever you need additional resources.
5. Review security options
Many business owners still believe that cyber-attacks happen to someone else. However, this threat has long become a reality even for small businesses, whose websites are increasingly targeted by different types of attacks.
One of the biggest threats for small business websites in the past few years were formjacking attacks, where attackers load malicious code onto retailers' websites to steal shoppers 'credit card details. According to Symantec, these attacks compromise 4,800+ unique websites on average every month.
While cybersecurity depends on multiple factors and is in part your own responsibility, you should check how your web hosting provider addresses key risks. Do they offer some advanced server or email security capabilities?
This is a relevant question to ask as some hosting providers offer better security options than others. Companies such as HostDime or Linware provide email accounts with email security capabilities at a server level. This is an option that reduce the risk from phishing attacks and ensure your business maintains a trusted reputation.
6. Check support availability
Most web hosting providers state they offer 24/7 support even in their free plans. In reality, however, they may not be answering the tickets for days or need extensive amounts of time to solve even the simplest inquiries and complaints.
This is why it is recommended you do online research of your top providers to see what types of reviews they are receiving online. This is usually a good way to find out about their support practices and whether they are meeting their users needs.
Conclusion
The hosting industry is booming with businesses of every type and size embracing digital formats to reach their target audiences across the globe. Despite the diversity of offering and highly competitive prices, not all providers deliver on their promises. This is why you should take a strategic approach to choosing the one to support your business and consider these key factors before entering a partnership.